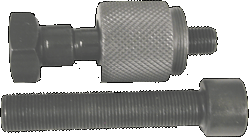 Install Tool
Quick Release BoltsCrMoBB

Triple Spiders
Our ProTCDH cranks are our heavier duty CrMo cranks for those guys that take the really big hits on a regular basis. These beefy pipes can harness all the power you got to give...and then more. Super stiff to endure all the rocks you encounter and pedals you may bury during your downhill assault.
Crmo cranks can be setup with either single speed chainrings for DH and dual slalom , or triple rings for your freeriding fun. All it takes is a spider change and your off and riding!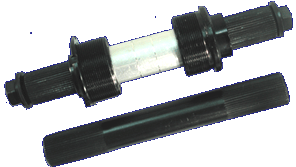 CrMo Bottom Bracket
The ProTC19 comes with a solid 19mm (3/4")48T spline 4140 CrMo spindle to harness all that power...4 precision sealed cartridge bearings...quick release bolts and an install/remove tool to easily get your cranks on and off...and dressed out in either triple chrome plated jewel finish,black chrome, or even some wild colors like these....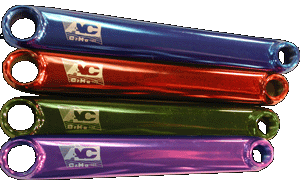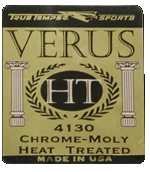 TrueTemper CrMo available
Click here for specs!