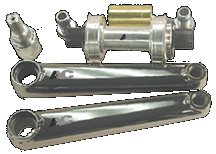 One of the burliest cranks around: almost 1.5 inches in diameter of 2mm wall thickness. Hey - almost as tough as a '56 Buick front bumper! HUGE 7/8" gun-drilled CrMo spindle with 48T spline grip! Precision sealed cartridge bearings....arms with a ballistic black chrome finish for a really hi-tech sinister look...
We have a lifetime warranty on the arms and spindle of these puppies. If you break 'em, you'll prolly be in a body cast!
Try 'em out - you be flyin' with DaBaron !
Click here for specs.